5 weeks to go!
Work is well underway preparing for the 2022 National Quantum & Dark Matter Road Trip.  We're excited to have 25 school visits confirmed, with more schools potentially being confirmed in the next few days.  Plotting a sensible route across Australia, while fitting in as many schools as possible, has been an interesting challenge.  The focus is now on filling in the gaps with public lectures, pub quizzes and other public events.  Check out our interactive map to see where we'll be stopping: https://www.qdmroadtrip.org/about/route.
Assigning our scientists to the various legs of the road trip was also a mammoth task.  We had to take into account the availability of our road-trippers and where they're usually based (to minimise travel costs), while ensuring we had enough drivers for each leg and a mix of experience and expertise.  To get a sense of the chaos involved in this problem, check out our post-it planning: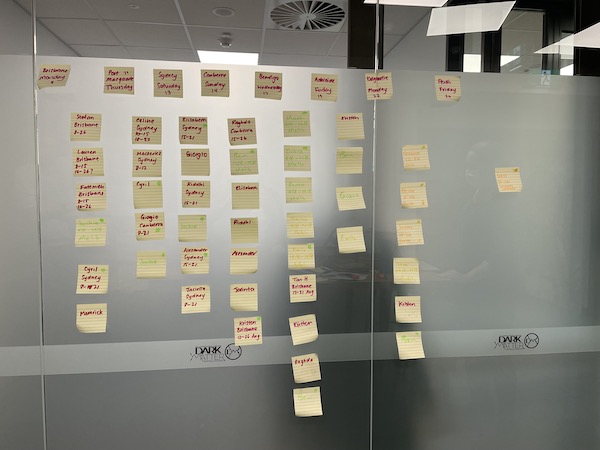 The team are also working hard on several other fronts: booking accommodation, cars and flights; preparing engaging quantum and dark matter presentations and demos; organising media, merchandise and collateral; and finalising other operational requirements.
We're very much looking forward to hitting the road!  With only 5 weeks to go, we'd better get back to work…